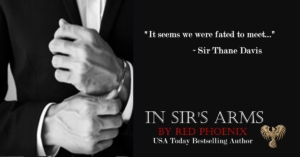 Are you ready for the newest Brie?
Out November 21st!
A man in love is unstoppable.
Sir Thane Davis is a fighter and has survived countless tragedies.
Now he must deal head-on with Lilly to protect the woman he loves and the baby she carries. He is relentless, wanting to end this threat once and for all.
But unseen forces are at play which will challenge the Master. Will victory be his or will he lose everything he holds dear?
Pre-order In Sir's Arms here!
Are you are a Blogger who loves Brie? Sign up here!
A serious fan dedicated to reviewing Brie? Sign up for my ARC Team here!
Hey, have you read Her Russian Returns?
(This is the book before In Sir's Arms)
Grab it now so you are ready for the sexiness!
✮ ✮ ✮ Her Russian Returns ✮ ✮ ✮