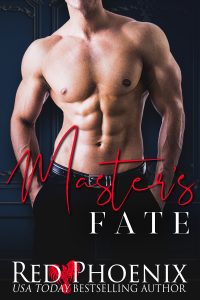 It's finally here!
Master's Fate has released. Read all about the sexy cowboy and his incredible talent with the bullwhip.
Master Anderson, the humorous cowboy whose skill with the bullwhip elicits pure pleasure.
Sir Davis, the mysterious one, who drives her wild with his touch.
Rytsar, the charming sadist who pushes the limits of pain and pleasure.
Three Doms set on fanning her passion…
****
At the dungeon, Master Anderson takes Glee from one sexy scene to another determined to claim her as his own.
He may be a new Dominant, but he aims to give her something she's never experienced before.
The others simply crave her submission—but he wants more.
Grab your copy on any of your favorite devices!
http://smarturl.it/rpmastersfatea – Amazon
http://smarturl.it/rpmastersfatei – Apple Books
http://smarturl.it/rpmastersfatebn – Barnes and Noble
http://smarturl.it/rpmastersfatek – Kobo
http://smarturl.it/rpmastersfateg – Google
Start the series with Sir's Rise by clicking here!