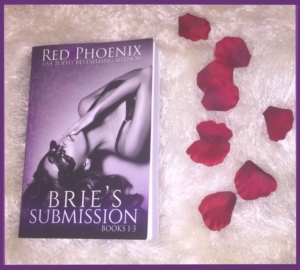 ONE LUCKY WINNER!
Enter to win this rare PAPERBACK
version of the 1st Box Set
*Not available for purchase
Entering is easy!
Invite two people to join Friends of Red Phoenix, tag them in the comment, along with a sentence sharing why they will love Brie.
Example Comments:
"Lea and Mary, you have to read this series because the Doms are scorching HOT!"

"Candy and Autumn, you are going to love Brie! Can't wait to discuss the book with you guys."
*If you are not already a member of Friends of Red Phoenix, join so you can enter the contest!
Click the Group Link Here: 

Share this free box set with  friends you think will enjoy it
The Brie Series – Box Set 1
Are you curious?
✤✦✤ FREE ✤✦✤
Enter the sensual world of BDSM…
Amazon US: https://goo.gl/Wp92Hc
Amazon UK: https://goo.gl/g6vDRM
Amazon AU: https://goo.gl/1joCCj
iBooks: https://goo.gl/rJ4UVS
Google Play: https://goo.gl/Zw47N1
Nook: https://goo.gl/zPMcaz
Kobo: https://goo.gl/GjRPab