BDSM 101
Basics of the Flogger by Red Phoenix
(Part 1 of 2)
This is a tool I adore and highly recommend—even though I'm a girl who doesn't enjoy pain.
Are you curious about floggers and why there are a variety of them?
The Flogger 
Floggers are a type of whip that has multiple tails. Initially used as a form of corporal punishment, it has been adopted by the BDSM community to enhance sexual play.
The thickness of the tails and what they are made of directly affects the sensation you will feel. Basically a flogger will deliver either a thuddy or stingy lash.
Thuddy floggers are made of light to medium weight leather such as deer or cowhide. They can provide a variety of experiences from a nice gentle massage to more challenging strokes that take your breath away. FYI, the more tails a flogger has the more pronounced the thud felt upon impact.
Stingy floggers have thinner tails and are made of heavier leather such as buffalo hide or oiled leather. They tend to have fewer tails and pack quite a bite.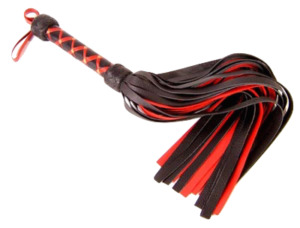 Fun Fact: The floggers of today aren't just made of leather. You can also find them in chain, rubber, animal hair, as well as various types of rope. Depending on the material used, the receiver can experience a feathery-light tickling to a welt-worthy encounter.

You decide what you like best. I'm a thud girl myself. ~Red